Customer services at :
+48 58 770 22 96
FASM Hoodie Jacket 01 Basic Melange Light Grey
Model height / size: 181cm, M

:  Out-of-Stock
The ultimate hoodie with modern slim cut. Ideal for those who look for comfort and unique style in sports clothing. The use of polyester allows significant comfort and supports the body's shape. The hoodie has a small FA SPORTSWEAR logo on the chest, left arm, right wrist and shoulder. Ideal for training and everyday sports. The top is complete with a protective cover for the zipper to prevent irritation on the neck. Available in three colours.
Length: Standard
Cut: Slim
Pockets: Side
Hood: String adjustment
Composition
55% polyester, 35% cotton, 10% rayon
Maintenance
to be washed in the washing machine at the temp. of 40°C

Dry after unfolding so that the fragments of the logo did not stick to each other
Size guide:
Size
A

front length

B

chest width

C

waist width

D

sleeve length

E

back lenght

S
66
54
50
75
73
M
68
57
52
77
75
L
70
59
55
79
77
XL
72
61
57
80
80
* The size is in centimeters (cm)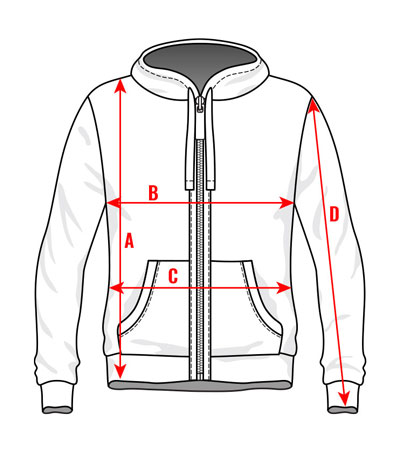 Reference

FA-FAMOD000023

ean13

5902448200460
1. PROCESSING OF ORDERS
Orders placed on working days (Monday - Friday) will be processed within 24 hours.
Orders placed on Friday will be processed on Monday.
Orders placed on weekends (Saturday - Sunday) will be processed on Monday.
Order processing is completed by sending an e-mail with the tracking number to the Buyer.
Orders are delivered by GLS courier, and their status can be tracked on the website: PACKAGE TRACKING
2. PAYMENT OPTIONS
Przelewy24 - quick online transfers (for deliveries within the European Union).
Payment on delivery - payment to the courier on delivery (for deliveries within Poland).
ATTENTION!! If the packaging is damaged, or the ordered goods are found to be damaged or defective:

The Customer should refuse to accept the delivery.
The Courier in this situation is obliged to complete a document of damaged goods, which should be signed by the Customer.
The document of damaged goods constitutes the grounds for redispatch of undamaged goods or refund of the amount paid.
The Customer should notify Customer Services of such damage on: 58 770-22-96 or reklamacje@levrosupplements.com
3. SHIPPING COST
The shipping cost in Poland is 15.50 PLN for paid orders (Przelewy24, traditional transfer).
The cost of shipping in Poland is 19.00 PLN for orders sent with cash on delivery (payment on delivery).
| Country / Weight | 0-5 kg | 5-10 kg | 10-15 kg | 15-25 kg | 25-30 kg | Delivery (working days) |
| --- | --- | --- | --- | --- | --- | --- |
| Austria | 73 PLN | 76 PLN | 81 PLN | 89 PLN | 93 PLN | 2 days |
| Belgium | 64 PLN | 69 PLN | 71 PLN | 80 PLN | 83 PLN | 3 days |
| Bulgaria | 86 PLN | 90 PLN | 94 PLN | 103 PLN | 107 PLN | 4 days |
| Croatia | 127 PLN | 130 PLN | 136 PLN | 142 PLN | 147 PLN | 3-4 days |
| Cyprus | 200 PLN | 322 PLN | 503 PLN | 805 PLN | 957 PLN | 5 days |
| Czech Republic | 59 PLN | 63 PLN | 64 PLN | 69 PLN | 71 PLN | 2 days |
| Denmark | 64 PLN | 69 PLN | 71 PLN | 80 PLN | 83 PLN | 3 days |
| Estonia | 90 PLN | 94 PLN | 97 PLN | 104 PLN | 107 PLN | 2-3 days |
| Finland | 126 PLN | 135 PLN | 145 PLN | 152 PLN | 166 PLN | 5-7 days |
| France | 93 PLN | 97 PLN | 97 PLN | 116 PLN | 127 PLN | 3-4 days |
| France (Corsica) | 196 PLN | 206 PLN | 215 PLN | 239 PLN | 249 PLN | 4-5 days |
| Germany | 59 PLN | 63 PLN | 64 PLN | 69 PLN | 71 PLN | 2 days |
| Greece | 198 PLN | 347 PLN | 494 PLN | 566 PLN | 670 PLN | 5 days |
| Greece (Athens, Piraeus) | 220 PLN | 372 PLN | 523 PLN | 587 PLN | 695 PLN | 4 days |
| Hungary | 59 PLN | 63 PLN | 64 PLN | 69 PLN | 71 PLN | 2 days |
| Ireland | 122 PLN | 123 PLN | 127 PLN | 132 PLN | 135 PLN | 4 days |
| Italy | 93 PLN | 97 PLN | 97 PLN | 103 PLN | 106 PLN | 3-4 days |
| Latvia | 76 PLN | 80 PLN | 83 PLN | 90 PLN | 93 PLN | 2-3 days |
| Lithuania | 59 PLN | 63 PLN | 64 PLN | 69 PLN | 71 PLN | 2-3 days |
| Luxembourg | 64 PLN | 69 PLN | 73 PLN | 83 PLN | 86 PLN | 2 days |
| Malta | 228 PLN | 348 PLN | 457 PLN | 576 PLN | 632 PLN | 4 days |
| Netherlands | 64 PLN | 69 PLN | 69 PLN | 76 PLN | 80 PLN | 3 days |
| Portugal | 142 PLN | 146 PLN | 152 PLN | 162 PLN | 166 PLN | 4-5 days |
| Portugal (Azores, Madeira) | 284 PLN | 387 PLN | 668 PLN | 908 PLN | 908 PLN | 5-7 days |
| Romania | 84 PLN | 86 PLN | 90 PLN | 97 PLN | 100 PLN | 3 days |
| Slovakia | 59 PLN | 63 PLN | 67 PLN | 71 PLN | 73 PLN | 2 days |
| Slovenia | 99 PLN | 102 PLN | 107 PLN | 114 PLN | 120 PLN | 3 days |
| Spain | 124 PLN | 127 PLN | 130 PLN | 152 PLN | 166 PLN | 4 days |
| Spain (Balearic Islands) | 319 PLN | 354 PLN | 390 PLN | 496 PLN | 516 PLN | 5-6 days |
| Spain (Canary Islands) | 514 PLN | 526 PLN | 584 PLN | 771 PLN | 871 PLN | 6-7 days |
| Sweden | 109 PLN | 112 PLN | 117 PLN | 126 PLN | 129 PLN | 4-6 days |
Relate products
Hand-picked arrivals from the best designer
Out-of-Stock
Model height / size: 181cm, M