Customer services at :
+48 58 770 22 96
FASW Long sleeve W 01 Run
Model height / size: 168cm, XS

FASPORTSWEAR has designed a long sleeve top suitable for cardio exercises like running. It has finger holes in its design which can protect against the cold, its high collar acts as a wind stopper while the reflective elements make you visible after dark. There is FA logo on the left of the chest. The long sleeve is available in three feminine colours and classic black.
Length: Standard
Cut: Slim
| | |
| --- | --- |
| Composition | 93% polyester, 7% elastane |
| Maintenance | to be washed in the washing machine at the temp. of 40°C |
Size Guide:
 

A

total length

B

chest width

C

waist width

D

sleeve length

XS

63

40

43

64

S

65

42

45

65

M

67

44

47

66

L

69

46

48

67
* The size is in centimeters (cm)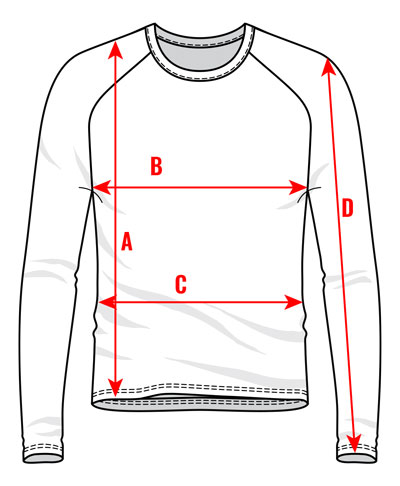 Reference

FA-FAMOD000312

ean13

5902448213132
In Poland
Delivery time
Orders are processed within 24 hours (business days: Monday - Friday). Orders placed on Saturday and Sunday begin on Monday. Each completed order is completed by sending an e-mail to the Buyer with information containing the number of the consignment note and confirmation of dispatch. Shipments are delivered by GLS courier. The customer on the website https://gls-group.eu/PL/pl/sledzenie-paczek has the possibility to check the status of the shipment thanks to the number of the consignment note.

Shipment
The cost of delivery depends on the value of the order.
In the case of damage to the transport packaging that may have an impact on the damage to the goods or the defects of the ordered goods, the customer should refuse to accept the package. The courier is obliged to complete the damage document in such a situation. The Customer signs the damage document submitted by the Courier, which is the basis for immediate re-sending of the non-defective (undamaged) good or immediate return of the paid amount. At the same time, the Customer should notify the Customer Service Office of this damage - by phone: 58 770 22 96 or by e-mail: reklamacje@levrosupplements.com

Methods of payment
The shop offers the following payment methods:
cash on delivery (payment to the courier upon delivery)
transfer
via the P24NOW payment system
International shipment by GLS
Country
0 - 5 kg
5 - 10 kg
10 - 15 kg
15 - 25kg
25-30 kg
Delivery time
Austria
65,00 zł
68,00 zł
73,00 zł
78,00 zł
83,00 zł
2
Belgium
60,00 zł
64,00 zł
66,00 zł
73,00 zł
77,00 zł
3
Bulgaria
88,00 zł
91,00 zł
94,00 zł
100,00 zł
100,00 zł
4
Croatia
118,00 zł
121,00 zł
126,00 zł
132,00 zł
137,00 zł
3-4
Cyprus
180,00 zł
310,00 zł
440,00 zł
700,00 zł
830,00 zł
5
Czech Republic
54,00 zł
58,00 zł
59,00 zł
64,00 zł
66,00 zł
2
Denmark
59,00 zł
64,00 zł
66,00 zł
75,00 zł
77,00 zł
3
Estonia
83,00 zł
88,00 zł
90,00 zł
97,00 zł
100,00 zł
2-3
Finland
117,00 zł
125,00 zł
135,00 zł
140,00 zł
150,00 zł
5-7
France
80,00 zł
85,00 zł
85,00 zł
110,00 zł
120,00 zł
3-4
France
(Corsica)
183,00 zł
192,00 zł
201,00 zł
224,00 zł
233,00 zł
4-5
Greece
(Athens, Piraeus)
184,00 zł
310,00 zł
460,00 zł
500,00 zł
600,00 zł
4
Greece
204,00 zł
335,00 zł
485,00 zł
525,00 zł
625,00 zł
5
Spain
115,00 zł
118,00 zł
121,00 zł
140,00 zł
150,00 zł
4
Spain
(Balearic Islands)
275,00 zł
305,00 zł
340,00 zł
430,00 zł
450,00 zł
5-6
Spain
(Canary Islands)
450,00 zł
470,00 zł
510,00 zł
670,00 zł
760,00 zł
6-7
Holland
57,00 zł
62,00 zł
62,00 zł
65,00 zł
70,00 zł
3
Ireland
105,00 zł
110,00 zł
115,00 zł
120,00 zł
130,00 zł
4
Lithuania
50,00 zł
55,00 zł
60,00 zł
65,00 zł
70,00 zł
2-3
Luxembourg
57,00 zł
62,00 zł
65,00 zł
72,00 zł
75,00 zł
2-3
Malta
200,00 zł
300,00 zł
400,00 zł
500,00 zł
600,00 zł
4
Germany
55,00 zł
60,00 zł
65,00 zł
70,00 zł
75,00 zł
2
Portugal
125,00 zł
130,00 zł
135,00 zł
145,00 zł
155,00 zł
4-5
Portugal
(Azores, Madeira)
250,00 zł
340,00 zł
580,00 zł
780,00 zł
780,00 zł
5-7
Romania
80,00 zł
85,00 zł
88,00 zł
93,00 zł
93,00 zł
3
Sweden
100,00 zł
110,00 zł
120,00 zł
130,00 zł
140,00 zł
4-6
Slovakia
87,00 zł
90,00 zł
95,00 zł
100,00 zł
110,00 zł
2
Slovenia
87,00 zł
90,00 zł
95,00 zł
100,00 zł
110,00 zł
3
Hungary
60,00 zł
63,00 zł
65,00 zł
68,00 zł
70,00 zł
2
Italy
80,00 zł
85,00 zł
85,00 zł
90,00 zł
95,00 zł
3-4
Latvia
95,00 zł
70,00 zł
75,00 zł
80,00 zł
85,00 zł
2-3
Relate products
Hand-picked arrivals from the best designer